Days in Paradise Filled With Enjoyable Diversions!
Today it's all about balance. Striking just the right balance between much needed relaxation that your body craves, sprinkled with just enough fascinating diversions to leave your body, mind and soul feeling re-energized and re-vitalized. What you need is an injection of true South Seas spirit.
That's where being on your own private island right on the shores of Aitutaki Lagoon is such a boon. Feel the freedom of being on your own island, with the beach and lagoon as your personal playground in Paradise!
Right in front of Aitutaki Lagoon Private Island Resort is the best location on Aitutaki for incredible stand-up paddleboarding, quite possibly the most picturesque location on Earth. Imagine floating atop the World's Most Beautiful Lagoon. Wow.
It's also the best location on Aitutaki to enjoy the majestic splendour of the lagoon.
The lagoon yields many pleasures. You can choose to simply loll in it and soak up its qualities of deep healing and pure relaxation. If it was in a spa it would be a very expensive thalassotherapy treatment. But in truth nothing beats Mother Nature directly working her magic on your body, spirit and soul. Feel the deeply calming, soothing effects of being immersed in the bluest lagoon on Earth. What a glorious, joyous feeling that is.
When you select Aitutaki Lagoon Private Island Resort for your sublime couple's escape, you've selected the resort on Aitutaki with not only the finest location on Aitutaki, but indeed one of the best lagoon playgrounds on Planet Earth.

Here you can enjoy everything that this exclusive boutique resort offers you - a private island location, a prime secluded beach, an expansive lagoon frontage to play in and on, and an extensive array of activities, with our compliments.
Here at Aitutaki Lagoon Private Island Resort, enjoy a complete resort vacation experience filled with possibilities.
Dip into any of the array of complimentary scheduled activities on the daily-changing Activities Program - learn to snorkel (easy if you're new to it, especially in our gentle lagoon), enjoy a kayak tour, stand-up paddleboarding tour, fish feeding, learn to dance the island 'ura (hula), make a fresh flower 'ei (lei), play the island log drums, play the ukulele, weave a sunhat from coconut fronds, tie a pareu (sarong), or husk a coconut.
Or you can freely use the complimentary equipment from the Activities Beach Hut to go your own way, at your own pace, in your own style. There's stand-up paddleboards, kayaks, snorkelling gear, bicycles and more.
A popular pastime with our guests is to kayak across to the delightful, deserted Ee Motu (isle) directly in front of Aitutaki Lagoon Private Island Resort. It's the perfect distance for a fantastic outing, not too far yet not too close. Order a Picnic Hamper from our Bounty Brasserie to take with you and have a very private picnic on the perfect beach there, just the two of you on a deserted island.
If you're feeling a little jaded by the pressures and strains of daily life, one look at the following day's Activities Program in your Guest Newsletter is bound to spark your interest in trying something new and different. And that's the wonderful spice of life – South Seas style.
Our Activities Team are always happy to help you get the most out of your days in our Aitutaki Paradise, and happy to share their wealth of local knowledge. Activities Beach Hut is open daily from 8am.
Cook Islands culture continues to be something lived and breathed by the people in their everyday lives. Because most Cook Islanders also speak English, it is relatively easy for a visitor to gain insight into the richness of the culture, unlike places where there is a language barrier or where travellers are not genuinely welcomed. Our Activities Team is always willing to share their deep love and knowledge of their culture with you as our valued guest. Feel free to immerse yourself in some of the wonderful aspects of exotic Cook Islands culture, thus enriching and deepening your vacation experience – and have a whole heap of fun doing it!
The Cook Islands' Tree of Life - the Coconut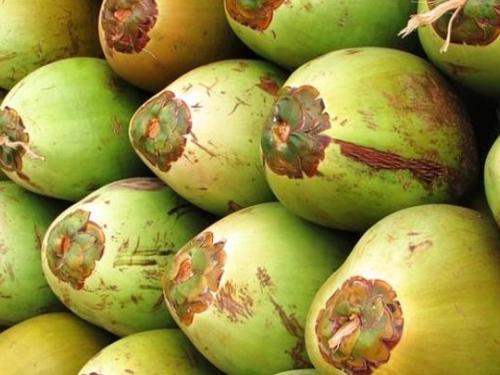 The coconut is known as the Tree of Life in the Cook Islands. It's a very important part of Cook Islands life, and our Coconut Show at Aitutaki Lagoon Private Island Resort will tell you all about the many uses of it in ancient and modern society. Be amazed at the skill and speed at which our Coconut Master can husk a coconut. Want to try to husk a coconut yourself? Learn the many uses of the coconut - a fantastic food source for its coconut water (the electrolyte balance is so perfect for humans, it can even be used as blood plasma, and is the ideal baby food), coconut oil, coconut cream, coconut milk, coconut sugar and coconut meat. The many parts of the coconut 'tree' can also be used as rope, dug-out canoes (the wood is very hard), coconut cups for drinking, coconut cups for bras, and the countless uses of the all-important coconut palm fronds in weaving everything from sunhats to roofs (kikau). Sample a drink, and fancy a taste from a freshly-picked coconut. If you've tasted coconut water from a supermarket packet, the taste of the fresh, real thing will be a wonderful revelation! Learn for yourself the importance of the coconut in the daily life of Aitutaki. And consider making healthy coconut a part of your own daily life whether in the form of coconut water, coconut oil, coconut kefir (fermented coconut water), coconut flesh or coconut milk/cream (which you can easily make yourself when you learn how, so much better fresh and homemade). The coconut, the island treasure that keeps on giving.
Move Those Hips Like a Washing Machine - the Cook Islands Hula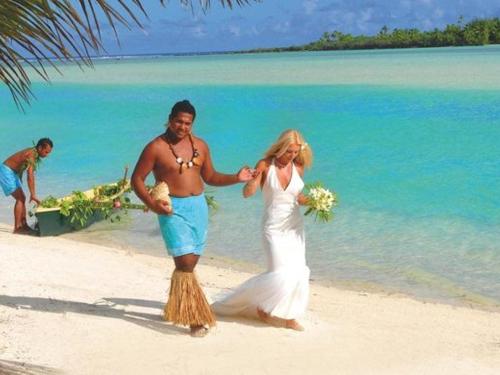 One of the highlights of your stay at Aitutaki Lagoon Private Island Resort will be witnessing first-hand the tremendous beauty and story-telling power of Cook Islands 'ura (hula) dance at one of our Island Nights. The skills involved in these dances are remarkable, and Cook Island dancers are considered by many to be the finest in the entire South Pacific.
Aitutakian dancers are especialy famous for their flair and verve!
Learn some of the steps and some of the hip and hand movements of these fascinating and ancient dances. Catch your breath, as it is a lot more difficult than our talented dancers make it seem!
The Heartbeat of the Earth - Cook Islands Drumming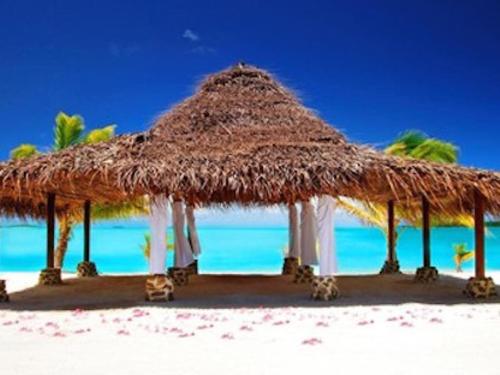 The use of drums in Cook Islands society has a long and venerable history. Drums were used to send messages, and along with the islands' stunning singing and world-renowned dancing, is also a unique means of entertainment. Grab an island log drum (called a pate, say pa-tay) and sit down with our friendly Activities team here at Aitutaki Lagoon Private Island Resort as they give you some insights into how they produce some of the wonderful sounds and rhythms, the signature sounds of the Cook Islands. Different islands within the Cook Islands also have their own particular types of drums with their own disctinctive pitches and sounds. Listening to the sounds of the hollowed-out log drums is like listening to the heartbeat of the Earth. No wonder many consider that Cook Islands drummers are the finest drummers in the world. Their speed alone is gob-smacking. Truly mesmerizing and awe-inspiring, and a holiday highlight.
The Sound of the Islands - the Ukulele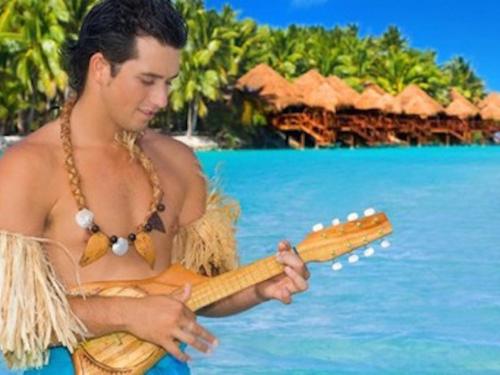 An important musical instrument in the Cook Islands, the ukarere (ukulele) is actually found throughout many of the islands of the South Pacific. Its unique and beautiful sound helps accompany the pure and melodious voices singing traditional Cook Islands songs. At our Aitutaki Lagoon Private Island Resort's Activities Beach Hut, try your hand at playing the ukulele and get some tips from our friendly staff. The ukulele is currently undergoing a renaissance, so if its sound appeals to you consider purchasing a locally-crafted Cook Islands ukulele of your own. Strumming it will immediately transport you back to your idyllic Aitutaki adventure.
The Cook Islands Story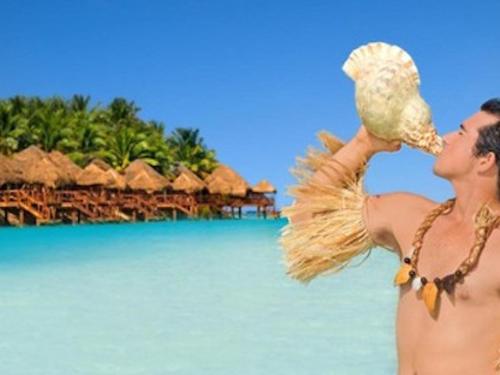 The islands and people of the Cook Islands have a rich and ancient history. One way that this history was passed down from generation to generation was through oral storytelling. At Aitutaki Lagoon Private Island Resort we are proud of our heritage and history and love to share it with you. Sit down with a native Cook Islander and hear some of the stories, myths, and legends of these fascinating and unique South Seas islands here in the heart of Polynesia.
Island Fashion's Must-have - the Pareu
Did you know that there are a multitude of different ways you can tie and wear an island pareu (sarong)? You can virtually create an entire new wardrobe with one simple pareu. Join the Aitutaki Lagoon Private Island Resort's Activities Team as they show you how to turn one simple length of fabric into a multitude of fashionable outfits, perfect to take you from the beach to a pool party and beyond!
Island-style DIY - Coconut Palm Frond Weaving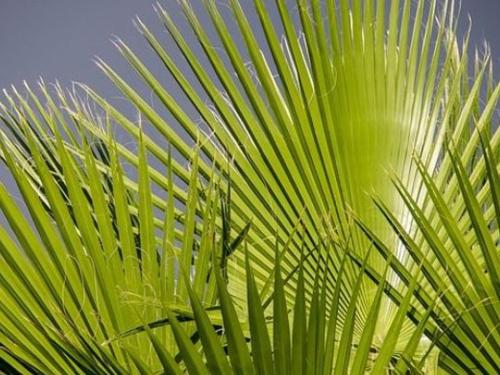 While the coconut is one of the most important items in Cook Islands daily life, the coconut palm frond also has many important functions and uses. One of the ways Cook Islanders use palm fronds is through the art of weaving, especially of bowls and other containers. Learn the ancient art of palm frond weaving, and make your own island sunhat!