Aitutaki's Best Dining Views & Food!
Flying Boat Beach Bar & Grill
AITUTAKI'S BEST VIEWS - TO DINE FOR!
Imagine drinking in Aitutaki's best views as you enjoy a range of delectable dishes, divine cocktails, cold beers and fine wines. These are some of the world's best views ... to dine for! Flying Boat Beach Bar & Grill is named in honour of the glamorous Coral Route which saw such screen luminaries as Cary Grant, Marlon Brando and John Wayne journey to Aitutaki by flying boat to see for themselves one of the true wonders of the world. Flying Boat Beach Bar & Grill is especially ideal for a leisurely lunch as the sunshine plays on the endless blue of the lagoon. And you can even feed the lagoon fishes from the Flying Boat deck! One of the most beautiful dining experiences of a lifetime - right here at Aitutaki Lagoon Private Island Resort, the home of Aitutaki's best dining experiences.
Bounty Brasserie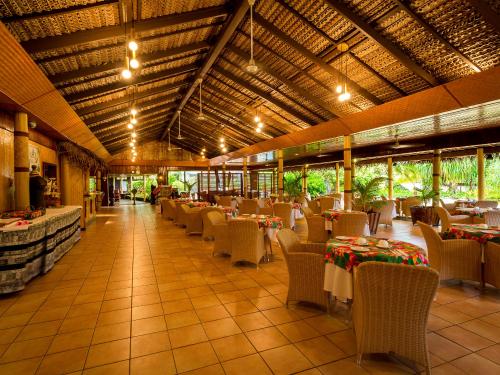 Bounty Brasserie is located at Aitutaki Lagoon Private Island Resort with views of the sunset across the Full Moon Channel, and is close to the swimming pool and the Resort Lobby. Named in honour of the first recorded European landing on Aitutaki by Captain William Bligh and his men on the HMS Bounty just 17 days before the infamous Mutiny, our Bounty Brasserie is ideal for our Tropical Buffet Breakfasts or one of our enjoyable Theme Dinner evenings. It's also the perfect all-weather venue and offers a beautiful room for private group dinners, the largest private dining or function space on Aitutaki.
CLICK below to view the H.M.S. Bounty Restaurant & Bar Menus;
Romantic, Private Candlelit Dinner under the Stars